HOW TO KNOW YOUR FRAME SIZE?
We sell only branded Eyewear and they are designed to fit perfectly to every face type and size. You may also take help from the quick & easy ways to find your frame size below:
1: From Your Existing Eyewear.
Reading your frame size is easy. Take your current pair of eyewear which fits well on your face and look on the insides of the temples. Find the set of numbers reflecting the order of measurement e.g. 55-18-145. These are the lens width, bridge width and temple length respectively.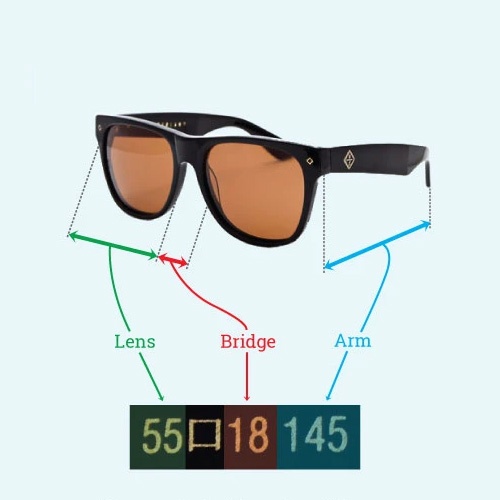 Lens Width/Diameter – This is the horizontal width of each lens in millimeters.
Bridge Width – This is the distance between the two lenses in millimeters.
Temple Length – This is the length from screw to temple tips.

Know your frame size while you're on-the-go with your credit or debit card. Surprisingly, the standard width of the card can be compared to a medium (M) sized frame.
To measure, place one edge of the card at the center of your nose and see where it ends. If the card ends at the tip of your eyes, a medium sized frame would fit you perfectly. If the card width extends the eyes, a small size would be perfect for you. Just in case the card edge finishes before your eyes end, you need a (L) large-sized frame.
3: Measuring Frames with Ruler.
In case the measurement on your current frames is faded, washed off or is not printed, you will need a millimeter ruler or a cloth measuring tape to measure the frame yourself. Find size as shown in the picture below.
4: Still Unsure? We are here to help.
Give us a call on 972-8877-365 or mail us at care@onestopvision.com and we'll find a perfect size frame for you.